School Uniform Policy
At St Joan of Arc, all pupils are to wear the school uniform and a high standard of personal appearance and cleanliness is expected. We believe this shared identity helps pupils work together for a common goal.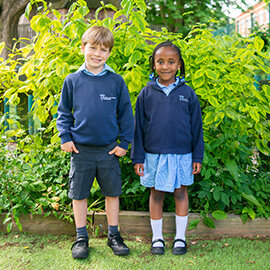 School Uniform
Pale blue shirt with collar (not polo shirt)
Navy sweatshirt with the school logo
Grey trousers, shorts, pinafore dresses or skirt
Black, dark grey or navy coat or jacket
White, grey, navy, or black socks or leggings/tights
Dark navy blue or light blue gingham dress (during warm weather)
Plain black/navy shoes of leather appearance, with Velcro, buckles or laces; should be free of sports labels/branding and should be able to be polished.
Black/navy sandals (during warm weather)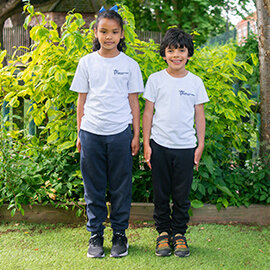 PE kit
White T-shirt with school logo
Navy shorts
Trainers
Navy tracksuit bottoms
White, grey, navy, or black leggings/tights
General
Jewellery (such as rings, necklaces and bracelets) should not be worn to school. If your child has pierced ears, please use small, smooth studs.
Eyewear (glasses and spectacles) should only be worn if prescribed by a medical practitioner.
No nail varnish or make-up is to be worn in school.
Hairstyles should be conventional, tidy and in keeping with the formality of the school uniform. Hair should not be too short or too long. Extreme or unusual styles including shaved areas or highlights are not allowed.
Hats, gloves and scarves should be in keeping with school uniform colours (white, grey, navy, blue, black)
Please note that items bearing the school logo can be purchased through the following
website: www.yourschooluniform.com
Please mark all clothing with your child's name. We cannot accept liability for lost items,
but if they are named we will do our best to trace them.
Policy last reviewed: Jan 2023
Next review: July 2023